OK not ALL the details. I'm gonna liken this post to that kitchen draw where you just throw all those batteries, screws and paperclips in. Maybe you can get some ideas…
Bookshelf
You cant have a book shelf in a van, they will all fall off. Whoever said that was right, but it didn't stop me.
Fold down table
I made this from the scrap wood pile. I fixed the rope to the wall using builders strap. Its nice and solid and folds up out of the way easily.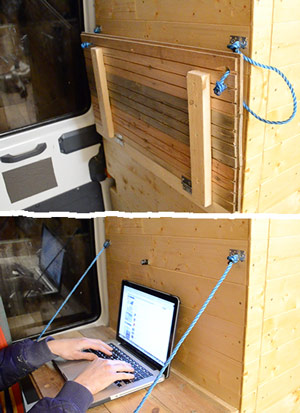 A seat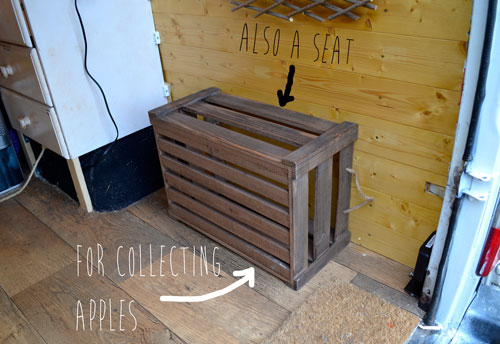 Holding things down
I used hooks and rope to keep things in their place whilst driving.
I glued down any loose panels of wood that clatter around a lot when driving. The chest of draws sits right above he wheel arch so layered some bitumen flashing on the underside of the draws to reduce the drumming sound.
Kitchen hooks
The hooks attached themselves to some rope in my big box of parts so I decided it was a good idea for hanging stuff off, like hacksaws and spatulas.
A plant
I tried a real plant but things became humid rather quickly so I bought a fake one.  I think I'll have to leave the real plants for the roof garden.

Safety stuff
Otherwise some people seem to get annoyed.
Cab curtain
The cab curtain should serve two main purposes; privacy and insulation – or at least stopping drafts
Back door curtains
I was going to use blinds at first but decided they would flap about too much and not fit right up against the window. Here is a much cheaper solution using fabric and magnets.
Sofa throw
I was reusing some old caravan cushions which are really comfy but look crap. A nice throw will sort that out.
Doormat of course
I bought a coir doormat and cut it in half. I put one side on the side door entrance and the other half at the rear doors. It seemed to fit exactly – just by chance (again).
Window shutter
Again, I was going to fit a blind here but the idea of a simple shutter came to me in a dream.
Vent shutter
Some extra security
Pretty pointless really. The main reason I fitted these bolt locks is because the door would not fit flush and looked a bit precarious. Smash the window if you want to get in… innit
Miscellaneous
There's probably a lot more to add to this but the page is getting really hefty now. I may do a version 2 at some point