I thought I'd post this for all the soaking wet LDV owners. I've seen a few people on various forums with a 'mystery water ingress' problem in their LDV Convoy. Leaks can be really difficult to get to the source of and just when you think you've sorted it you wait for the rain to come and your feet are wet again–very frustrating.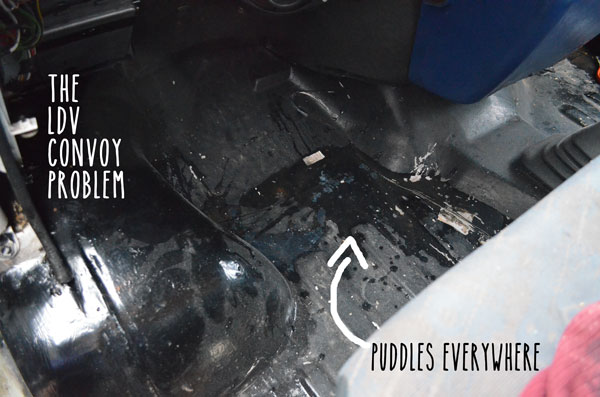 The picture above shows a puddle of water next to the central console right under where the water pipe comes in for the heating matrix–one assumption would be that the pipe has a leak and thats exactly what I (wrongly) thought. I reckon the only way to get the bottom (top) of a leak is to get the garden hose out. The water was actually coming in at the top corner  of the wing, above the wheel arch. I never would have guessed.
I found this problem was exactly the same on nearly all the LDV Convoys I have seen in the breakers yard and guess what? they all had soaking wet floors. Now I know why no one puts carpets in these things.
Here's how to fix the LDV Convoy water leak problem
Materials used:
EDIT: Two (English Winter) months later and everything is bone dry. If you are a leaky Convoy owner then I hope this is useful for you. It is like a whole different van now it doesn't leak 🙂