Announcement…
The 2021 revised version of my ebook From Van to Home is out and available here:
From Van to Home ebook (revised for 2021) – Mike Hudson
Oh and Happy new year everyone!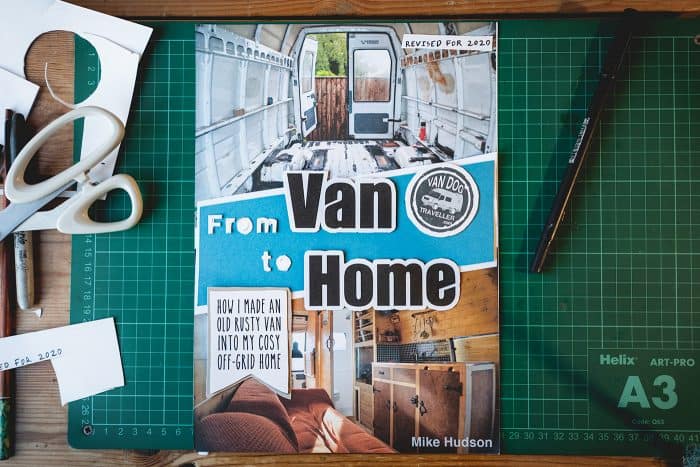 In this post:
What's new in the From Van to Home ebook
The updated cover – how to tell which version you have
The update/download for people who bought the first version
A few words on the print version
Earn money recommending this book!
From Van to Home – revised for 2021. What's new?
As I said in a previous post, (From Van to Home – revised edition coming soon), the book just needed a refresh.
The fact is, when I wrote this ebook, I never expected it to be so popular, and there were many bits a wish I spent a little more time on. So here are some things I changed in the revised version:
Additions and modifications to my van
Afterthoughts and comments from having more experience on the road
Corrections – many small mistakes throughout
Higher res photos and illustrations – many redone for more clarity – and some new ones
Chapter summaries for easier navigation
Ambiguities cleared up
Also, I'm now using SendOwl to deliver the ebook, instead of E-junkie, which makes for a nicer buying experience and all payment methods, globally, are now accepted, using Stripe and PayPal.
AND it's now really easy to give this ebook as a gift to someone.
The updated front cover
A subtle difference but it's enough for you to tell what version you have. I way prefer this new one. What do you think?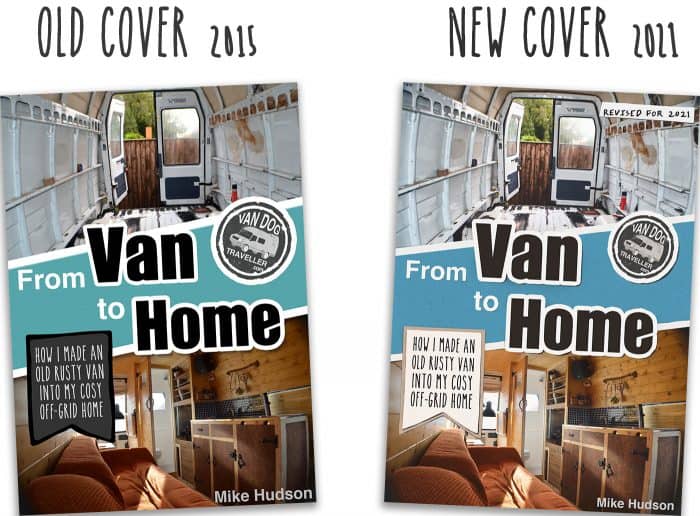 For people who have already bought it
As promised, you will get this ebook update for free. You'll receive an email within the next 2 weeks – sending all of these updates for free is actually way more expensive than I thought so I'm having to divide the list up into chunks and roll out the emails over 2 weeks.
The email will look something like this…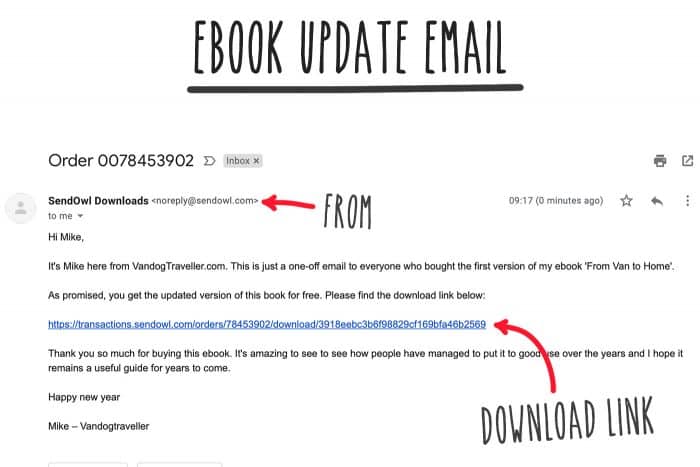 What about the print version?
This year took me a little off-track with everything (as I'm sure it did with everyone) but… I'm still hoping to make a print version. The first step is now done (this post).
To produce these properly/nicely, plus efficient/reliable order fulfilment, I'm looking at a retail figure of around £40 for a hardback and £35 for paperback. I'd welcome your thoughts on this (comments below).
This won't be for a while yet though, so if you want to get this book, I wouldn't hold off. I think the ebook still has many advantages over print – like zooming in, portability, searching for keywords etc. But I realise a physical book is nice to have and hold.
If you want to be notified on the progress of only this book (and not my other/normal blog updates), just put your name and email in here:
And one more thing

Earn a commission recommending this ebook
From Van to Home has always relied completely on word of mouth. I believe that when something is good people will recommend it naturally, and I want to thank everyone who has done that. THANK YOU!
But I'm now able to reward you, so if you recommend this book and someone buys it, you earn a percentage of the sale. If you have a large audience in a related topic (campervan, Vanlife etc.), this could be a nice opportunity. For more info, and to sign up, go to the affiliate page: