Lofoten is group of small islands in the North of Norway, above the Arctic Circle. Amongst many other things, this is one of the best places to go if you want to see the Northern Lights – that was all I needed to know.
Get to Lofoten by campervan in two steps:
Keep driving north through Norway, beyond the Arctic Circle. Drive carefully through the snow (as you'll see below)
Get a ferry to the islands – I'll show you the options below
Lofoten is a group of islands in the North of Norway. Here…
We drove far north, through Norway
Snow started to appear on the ground around us
We crossed the Arctic Circle and nearly turned back because… I was totally unprepared for this:
We got to Bodø and took the ferry to Moskenes (Lofoten)
And watched as the distant Lofoten Islands came into view
Here are the ferry routes to Lofoten
Ferries can be booked here: http://booking.torghatten-nord.no/ – in English and Norwegian. Here are the options: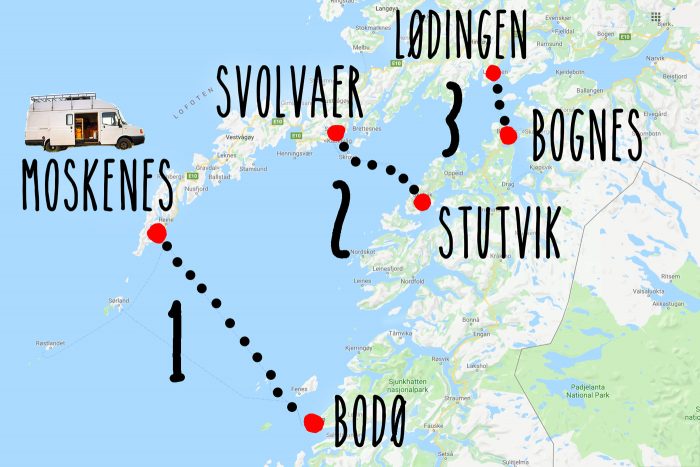 Bodø to Moskenes (mentioned above). This is what I'd recommend as a good starting point to explore Lofoten. It's takes the least amount of driving making it the easiest option. We paid 1113NOK (about £100).
Stutvik to Svolvær. This lands you in a good central place if you're not so sure exactly where you want to visit in Lofoten. It's also cheaper but this ferry only operates in the summer.
Bognes to Løingen. Probably only a good option if you're already near Bognes. Lofoten is still another hours drive west from Løingen.
I really wasn't sure how possible it was to get the van all the way up to the Lofoten Islands, especially in Autumn (mid October). And especially with summer tyres (two of which needed replacing). But we did it. It's possible. This old van is amazing.
I'm glad we didn't turn back at the sight of all the snow. I had images of getting 'stuck' in the Arctic Circle and having to get towed back south. Has that ever happened?
Although, Norway isn't like the UK when it comes to snow. Roads get cleared here and everything runs as normal. So what I'd say is, don't let the snow scare you. It's fine. But it is worth making sure your tyres have enough tread on them before getting to Norway.
Also see this post: Lofoten by Campervan: Watching the Northern Lights on Haukland Beach