When you're converting a van into your home, finding different ways to use every day items goes a long way. It helps to be constantly looking around and asking yourself 'what can I use that for?' or 'how can I adapt this to make it work in my van?'
That's what Phil did. After 5 months his van is finally ready to travel Europe. So let's have a tour of his van…
This van used to be a minibus
He bought it for £900

5 months ago it looked like this
But now it has a kitchen
The cooker was donated from an old 1980's campervan

The sink was salvaged from a skip
The units were £10 from gumtree
This cupboard was an old drawer
And here's extra seating… and a child's bed
The seat folds down
Into a bed
There's good storage above the cab
And storage underneath the bed
It has solar power
He's got 1x175W panel on the roof going into 2x120Ah batteries
With built in USB charging
It has what every van needs (including mine)
7.5kg of LPG gas storage – Safefill cylinder
And here's the shower
He modified one of these rain showers (this one) to hinge on the back door. Although, it's probably best used in Spain rather than the north of England.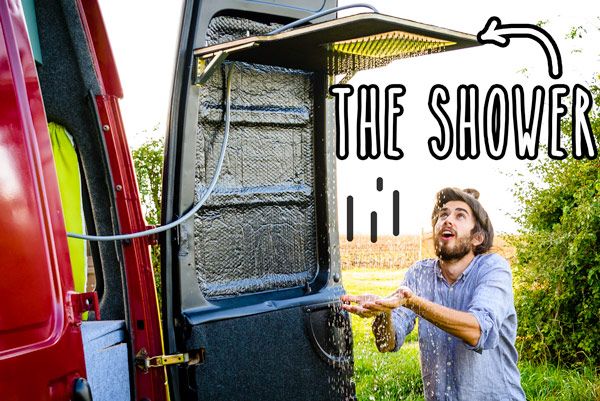 The cost
£900 for the van and just under £1600 for the conversion. That's not bad at all. Phil has managed to make use out of all the things around him to keep costs down whilst still managing to have a conversion that is of decent quality and that will last a long time. Great job!
Thanks for showing us your van, Phil
You can follow his Instagram @campervanbuuren
It's always interesting to see how other people do things. And hopefully for the people who want to convert a van these 'van tour' posts give you some ideas and inspiration – everyone solves problems differently and uses space differently and no 2 DIY campers are the same.
What do you reckon? Comments below
And please share this post if you enjoyed it.
Also see other vans posts: Van tour: 10 day campervan and Van tour: this bus will make you want to live in a bus