I need to introduce you to the blue book…
The blue book – notes and plans for this blog
It's time to make this blog into something that, I hope, will be very useful for some of you. I've been spending a fair bit of time working on some brand new sections (which you cant yet see):
There will be a guides section and a forum for DIY van conversions and van living
1. The guides section – Do you have van dreams?
Do you want to convert a van into your home? to experience crazy freedom and travel in its best form? Well you should bookmark this site or subscribe, because there's some pretty useful information coming up ('pretty useful' = unmissable).
There will be 2 parts to the guides section: 1). van conversion and 2). Living and travelling in a van.
This won't come all at once. It will be something that I will add to and grow over time (hopefully) with your help, input, suggestions and questions.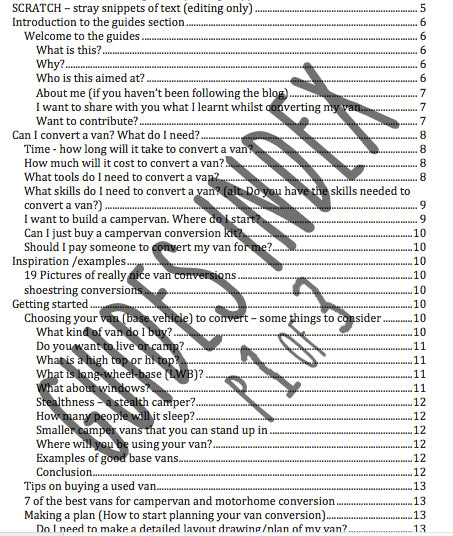 There's another notebook (the black one) that I used whilst converting the van. It has my scribbles, questions (loads of), information, problems and solutions to things. I have it with me in the van and it's what I'll base these guides on.
2. The forums
I answer many questions by email and in other random places, but all this really needs to be out the open for all to learn and build upon – it's no good in an inbox. Time for a forum!
The forum will accompany the guides section and will be split into the two same categories: van conversion and living/travelling in a van.
When will this happen?
The forum will come real soon. I've spent many hours outside this restaurant (for WiFi) figuring out SQL databases, PHP and forum software. Nearly done, I think.
The guides section will be gradual, but hopefully there will be stuff on there by Christmas, and I'll add to it for the next… while.
Thanks for subscribing
If you're already subscribed to my general email updates (twice a month) then you'll be updated with the progress. I'll let you know when new things come along
Now you
What do you think? It'd be good if you could give any suggestions, requests or advice, in the comments below. Name for forum?
This blog wont just be me talking about my 'surreal adventures' forever . I want this site to be a useful resource for information and inspiration, and I want to make it good!