Everything you see on this blog is through this camera. I used it every day for the van conversion and for the past 10 months of travelling on the road. I couldn't be without it.
People often ask what camera I use, so I thought I'd answer with a blog post…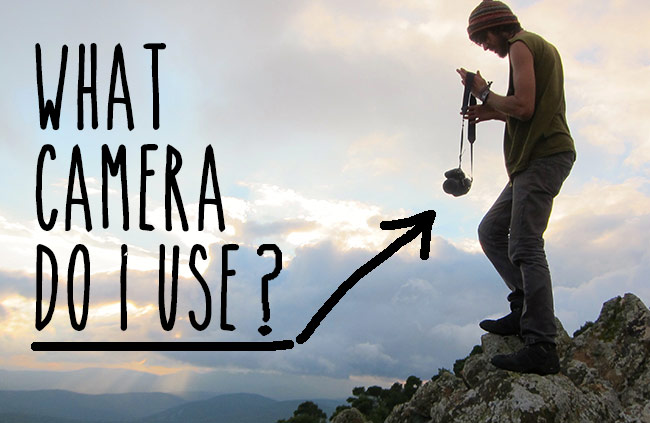 What camera am I using?
It's a Nikon D5100 with the standard 18-55mm kit lens. This is pretty much marketed as an 'entry-level' DSLR – I read somewhere that it's 'a girls camera', but that's the kind of person who thinks guns and sports cars are cool – I think what he meant was that this camera is small for an SLR – ignore.
[Tweet "The D5100 is a modest looking camera, but with serious insides. The perfect travel camera?"]
Is this the perfect camera for travelling? – 8 reasons why I think so:
I did have to make a few simple modifications to make this the perfect camera – See post
1. It's small and light (for an SLR)
When you're travelling it's no use having an amazing camera, which stays at home because its too big and heavy to carry. You need a good camera that can easily be taken everywhere. I keep this camera in my rucksack all the time with no problem – can also just about fit into jacket pockets if I really need it to.
2. It's tough!
Maybe not as tough as a magnesium body (this is all plastic), but it has survived the van conversion (paint, dust, glue, oil) and also many beaches, mountains and muddy festivals. You need to be able to take a camera everywhere without the worry of it easily getting damaged. Or at least, I do.
3. It has some serious insides!
The sensor and processor is the same as the D7000 (a well known high-end Nikon camera)
4. Packed with features
The reason I bought this over a Canon: way more features for the money. My favourite features (not often found on entry-level cameras) are bracketing (for HDR) and interval programing (for time-lapse). This does have everything I'll ever need
5. Built-in help
All parameters and settings are explained if you press the '?' button. This has helped me a lot for the first few months… OK I still use it sometimes
6. Can be controlled with your smartphone
I recently discovered the 'DSLR Remote' app, and the D5100 is fully compatible. It is perfect for taking long exposures, so you don't have to press the button on the actual camera. The app has other nice features such as timers and HDR bracketing
7. It can be 'hacked' to unlock the hidden features
Most modern electronic products are capable of way more than what their features specify – it's a marketing thing. This camera is no exception. Check out nikonhacker.com – I've used several of these hacks (you can pick and choose) – I love the people who spend time to do this for us… and for free!
8. The picture quality (and HD video)
I want to capture the amazing things I see whilst travelling as well as I can. According to Ken Rockwell (internets most honest and unbiased camera fanatic) the image quality of the D5100 is exactly the same as the D7000 (a pro Nikon cam).
Oh yeah and Nikon used this camera to film the television advert for the camera it's self.
Nikon D5100 on Amazon UK
Nikon D5100 Digital SLR Camera with 18-55mm VR Lens Kit (16.2MP) 3 inch LCD

You will help me if you click on this link and then buy something on Amazon. I get 5% of the total checkout value – it's a few pence but it will help me run this site and maybe buy an avocado once in a while. Thank you!

*note: if you want to know more about the product link (above) then please read what is an affiliate link?
Conclusion
There are probably now other cameras similar to the D5100 that would also suit me for travelling just as well, but when I bought this in 2013 it definitely stood out in terms of features and quality for the money.
I've learnt a lot on this camera, and still have a long while before I grow out of it.
So what do you think makes for a good travelling camera? Does anyone also have this camera? Maybe (now at the end of 2014) there is something even better for the money? Please let everyone know in the comments below…