It was June when a reader of this blog told me about the SUN festival in Hungary (thank you!). All of a sudden I was taking pictures of leaves on the ground.
I'd unintentionally spent the full summer in Hungary. See one thing leads to another
Here's to a massively underrated country – 10 reasons you will get hooked on Hungary:
1. The food. Well mainly the cakes!
LOADS of nice cakes but there's one famous one, Dobosh Torte, with like 7 layers! A good bit of cake is about 200ft (50p or 65E or). Pékség – it means bakery.
2. The people
So welcoming and hospitable! Adam took us to his Grandma's house where she cooked us dinner and washed all our muddy festival clothes then made us food for the road. I experienced so much generosity, sharing and kindness during my summer here. I recently read that Budapest was named Europe's most welcoming city in 2013.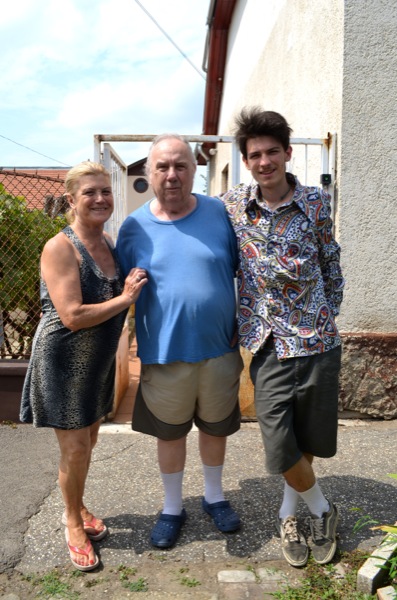 Hungarian fact: Did you know Hungary has one of the highest rankings (per capita) for Nobel laureates? Oh and the rubix cube and BASIC computer programming language… Hungarians.
3. The parties, the festivals
Home to some of Europe's best Psytrance parties; SUN and OZORA festivals. Also some smaller parties and many traditional festival (there's one for everything!).
It's also home to the (a bit more mainstream) Sziget festival which had now been running for 20 years and is one of Europe's largest music and cultural festivals held on a +100 hectare island on the River Danube, Budapest.
But give me SUN and OZORA any day. Or a party in the woods…
4. The countryside
More than 1000 thermal water springs, 10 national parks and the largest stalactite cave system in Europe (bordering Slovakia), ancient volcanoes and loads more.
I really like how quickly you can go from being in the middle of the city to countryside – literally in a matter of several km. Csobánkapuszta valley near Bercel – I've never seen such dramatic sunsets and thunderstorms
5. Budapest
This one deserves it's own post: amazing caves, famous baths, hidden backstreet cafes, the famous 'ruin pubs', really amazing mix of architecture and niche shops such as a world music shop and an analogue synthesiser shop. Do you like cats? there's a 'Cat Cafe'. I'm not really into cats.
6. Danube
The river Danube runs through 10 European countries, 4 of which are capitals. It also has hundreds of miles of cycle tracks along side it. A lot of it in Hungary is easily accessible with a campervan or to free camp. It's also a nice river to swim in, as long you don't get too far in the middle – the current is strong!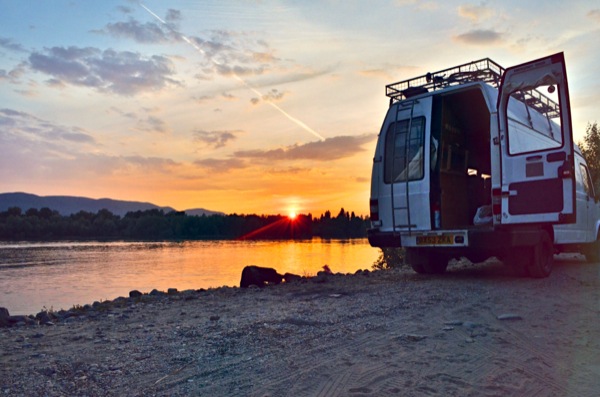 7. Low cost of living
At least compared to many other European countries.
For the last month of Hungary, Finn and I were eating amazing meals (all fresh produce with either pasta or rice) for just over 1 Euro (each) per day. The key is to buy fruit and veg from locals rather than supermarkets and also picking all the end of summer fruit.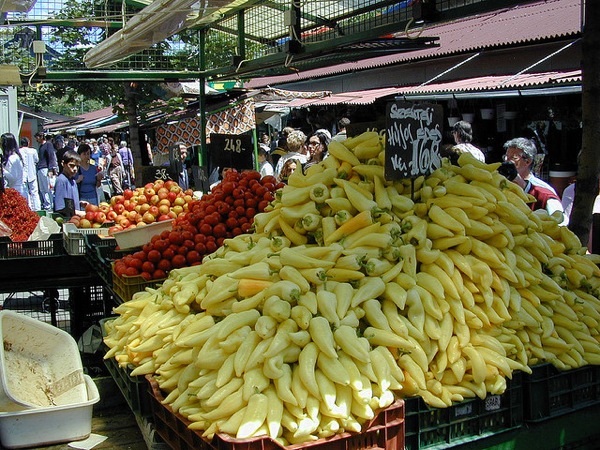 8. Second hand shops
There's nothing like a good second hand shop. Hungary has loads. The best places seem to be just outside of the city. If you want a violin, an antique velomotor or half a train carriage, check out a place called Ecseri flea market a few km outside of Budapest…
9. The big lake I didn't visit – The 'Hungarian Sea'
This landlocked country doesn't stop the Hungarians having beaches. Lake Balaton is one of the biggest lakes in Europe (about 50 miles long) and is dotted with loads of artificial beaches.
I'm saving this one for when I come back.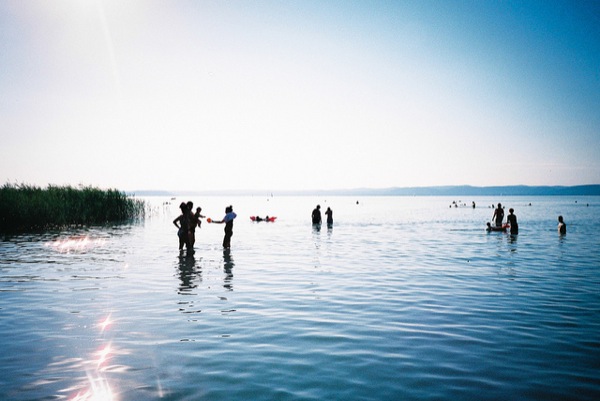 To all the cool people I met this summer in Hungary, thanks for an awesome time!
Where now? check out the updated photos section
See you in Romania…