Gas is going to be my main energy source for cooking and heating. I thought this would be the simple case of throwing in a couple of 6KG Calor gas bottle and connecting the hose. I was wrong. The world of gas fittings, adaptors, regulators, connectors is pretty confusing – the more I researched, the more worm cans I opened.
Calor gas cannot be exchanged around Europe so there is no point me shelling out £70 for Calor bottles only to find I may have to ditch them. Also, there are several different gas bottle types around Europe (like 4 or 5?) all with different connections.
Refillable LPG bottles
This appears to solve the above problems and seems to be the most universal gas storage solution I could find – a refillable LPG cylinder. Even when I narrowed it down to this, I still had trouble deciding what type of refillable cylinder to get. I narrowed my search down to what seems to be 4 of the most popular brands:
Safefill is made from a lightweight composite material which gives it the advantage of being transparent enough to see the level of gas remaining. The Safefill bottle is specifically designed to be filled up directly, although some fuel stations will still not allow free standing bottles to be filled directly.
Alugas costs a little more for a lightweight bottle so I guess if weight was a big concern then it may be worth the extra few quid.
Gaslow and Gasit are pretty much the same product as far as I can tell, with the only difference being the name and colour.
I went for an 11kg Gaslow cylinder with direct fill adaptor – I like the colour yellow.
You can get these directly from Gaslow but Hamilton gas products are still the cheapest around. However they had sold out when I called so the next cheapest I could find was Outdoor bits who are still 10% cheaper than directly from Gaslow themselves
Gas manifold and pipes
I fixed the gas manifold down to a solid surface and ran the hose to the appliances. I used standard 8mm orange hose for all the pipe work (with jubilee clips at every termination) instead of 8mm copper mainly for ease of use and maintenance.
Fitting the Gaslow bottle
I don't really have a proper gas locker like in a caravan but I do have free cupboard which I'll make some modifications to. The gas bottle can be taken in and out from the outside of the van via the sliding door, although most of the time it will be filled in situ without needing to take it out.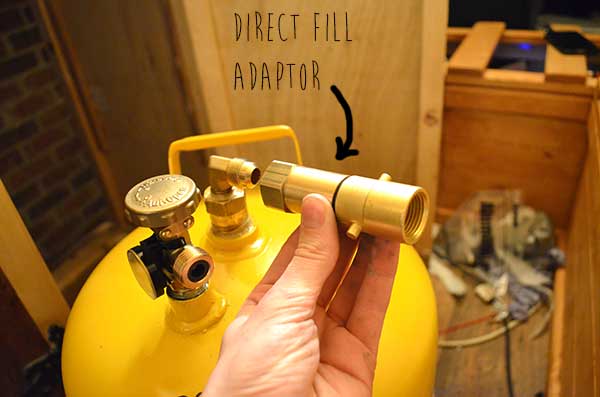 Filling up
I used LPG map to find a near by garage that sells LPG (they call it autogas in the UK). My plan was to take the empty bottle along to the pump and try to quickly and discreetly fill it before anyone could tell me I wasn't allowed. That plan didn't work – I hadn't tightened the fill adaptor plus Its not really like a petrol pump. Gas went everywhere. Just when I thought I was about to get shouted at by a guy walking up to me, he kindly helped me and put some PTFE tape on the adaptor threads of the bottle then proceeded to show me how to fill it safely.
I filled it with 17.5 litres and cost about £13. That is half the price of Calor gas!
Testing
Leaking gas was one thing I was a little worried about at first but I am pretty confident now that a gas leak will quickly become obvious from either the smell or noise. Even the smallest amount of gas in a ventilated area really does stink!
Heres what I did to test for leaks:
turned off all gas appliances
switched on gas supply at bottle and then turned it off – pressure is now in the lines and should stay there unless there is a leak
after 10 minutes or so I removed hose from regulator and heard the trapped gas escape which told me that there was no leaks!
Filling up in Europe – LPG adaptors
These LPG adaptors just screw onto the existing bayonet direct fill adaptor shown above. These are quite expensive if bought directly from the bottle supplier (Gaslow). I found the set of 3 for £21.50 here from autogas 2000 ltd.