The city of Hull, UK, is where I grew up. I lived here all my life and moved away when I was 20. Hull was the starting point of my journey when I set off around Europe in a van with my two friends in 2014 (see the tracker map) and it's where I go back to when I'm in the UK.
I've shown you all the other places I've been in Europe so now I'll show you where I came from…
Hull is here
Our annual fair (Hull fair) that is the biggest travelling fair in Europe and the oldest – since 1278
Hull University gave us the LCD display
It was the groundbreaking discoveries led by Professor George Gray that led to the development of the LCD screen at Hull University

The houses go from this…
To this…
We call this a 'tenfoot'
It's the 10′ wide strip of land between the backs of houses stretching hundreds of metres. It's pretty much where you spend most your time as a kid, 'larking out' in the tenfoot

William Wilberforce was born here
He was the main guy who stopped the slave trade

So now we have an annual festival in the streets: The Freedom Festival
Amy Johnson, the first woman to fly solo from Britain to Australia was from Hull

We gave the world Lemsip, Bonjela and Gaviscon
Our Humber bridge was the longest single span suspension bridge in the world for 17 years
You can walk, cycle or drive along here. Construction finished in 1982. It's 2.2km long and cost £151,000,000 – I think we're still paying that off

And our river isn't dirty. We just have a lot of clay
Hull was the most bombed city in the UK, apart from London, during the second world war
More than half of the city centre was destroyed and nearly half of the population made homeless
But we still have a few nice buildings left
This place, The New Adelphi Club, is legendary
This is my favourite place in Hull for live music and good people. This is where all musicians start in Hull. Stone Roses, Oasis, Radiohead and Pulp even played here back in the day. Here's a video clip (link) of John Peel talking about it with the owner, Paul Jackson.
Hull gave us The Housemartins who later became beautiful south
And the 90s music duo Everything But The Girl
They kind of took their name from the slogan on this shop in Hull
We have many good buildings to explore
Getting to the top of this building was one of the many memorable things I did as a teenager in Hull. I wanted my pirate radio station to reach across the whole city. You make your own fun.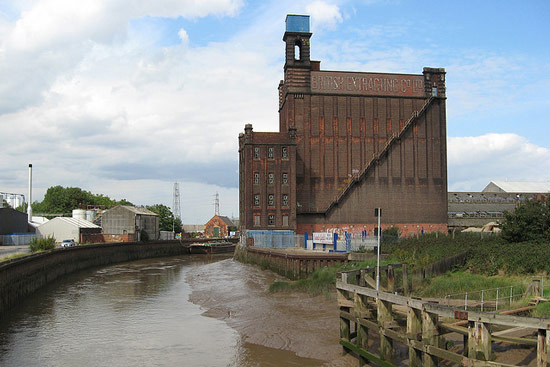 Philip Larkin, the world famous poet and novelist, lived here.
I think what he said about Hull is perfect…
Now here's a guy drinking a pint on top of a bus stop
And here are two grown men feeding a whole shopping trolley of bread to the ducks
Did you know we have white telephone boxes? The rest of the UK has red
That's because we have our own telephone infrastructure – Kingston Communications. We can't have BT, It's KC or nothing.
But now we also have a gold one
They painted gold it to honour Luke Campbell (he's from Hull) who won a gold medal at the 2012 olympic games.
Hull was once voted worst city to live
You could confuse that with Solihull, which was voted the best
But that's in the past. Hull is going to be the UK's city of culture in 2017