We left the Hidden Beach and drove for 5 minutes before finding this place…
A small secluded beach in Norway's Lofoten Islands with surfing, amazing sunsets and good viewing of the Aurora.
The added bonus is that you can camp with your van right on the beach
Also see: Lofoten by campervan: How to reach the hidden beach
Welcome to Skagsanden Beach 
It's here, in Norway's Lofoten Islands 
Google map link: Skagsanden Beach
You can camp on this open bit of land, right on the beach
With a front row seat of the Arctic Ocean
The waves are here all day and night
To watch or ride
Wetsuits (extra thick) and boards can be hired on the beach
Each day ends with its own unique display of colours
And (if you're lucky) the colours turn to green as the night comes
Remember me saying in this post that to see the Aurora you need a good view north? well that's exactly what this beach has.
Also see: 20 essential tips if you want to see the Northern Lights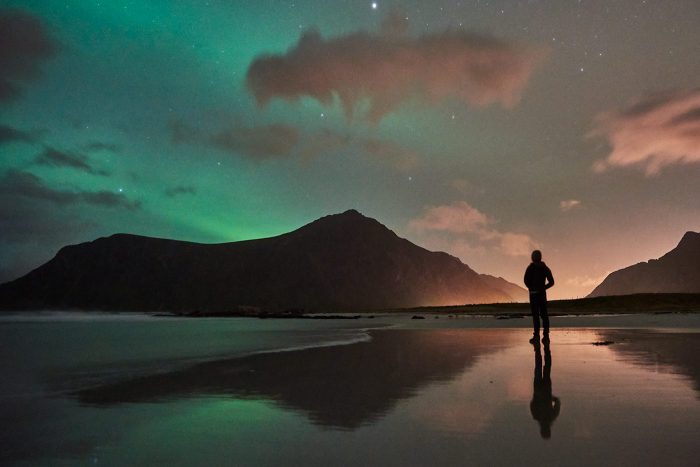 Camping info
The graveyard across the road has delicious fresh tap water. Also, there are free toilets in the beach carpark.
Pin this post for later
If you plan to visit Lofoten Islands I recommend this place, Skagsanded Beach. It has everything for camping in a van.
Have you been here? or maybe you have some recommendations for this area of Norway? Comment below.
Also see these posts:
Lofoten by camper: how to reach the hidden beach
16 tips for photographing the Northern Lights
Lofoten by campervan: watching the Northern lights on Haukland Beach